Our House- An Update
Renovations are always an exercise in patience. Renovations are even more of a trial when they are not by choice, but by necessity. It's hard to keep your eyes on the prize when all you can see is dust, rubble, vinyl and power tools...when they are there somewhat against your will.
Our current 'renovation' encompasses the kitchen, a powder room, the pantry, and our master bathroom, because they were destroyed in the flood. However, all the contents of these rooms are loaded into the living room, guest room, laundry room, and sunroom. Basically the entire house is crammed into the non-damaged rooms, packed by unenthusiastic high-schoolers working minimum wage at a disaster mitigation company, completely unlabelled and probably not at at all wrapped with care. This girl has some major anxiety.
Because the renovation is covered by insurance, we aren't responsible for paying for anything out of pocket. This is a huge relief since the damages have already surpassed $100,000. While this seems awesome, it comes with its own set of hiccups. I'll be sharing a post specifically on how to navigate through an insurance claim, so stay tuned.
So what happened? I shared a few posts back about a toilet that cracked while we were away on holidays, spilling water continuously for at least 24 hours. Water has a way of getting everywhere, and old houses have a way of having more layers than an onion. Combined, this results in much damage and much repair.
Everything had to come out, including our kitchen, which was finished when I was 36 weeks pregnant. That's right, it was 13 months old. Torn out, wholly ruined.
The silver lining is we get to completely rebuild everything exactly how we want it.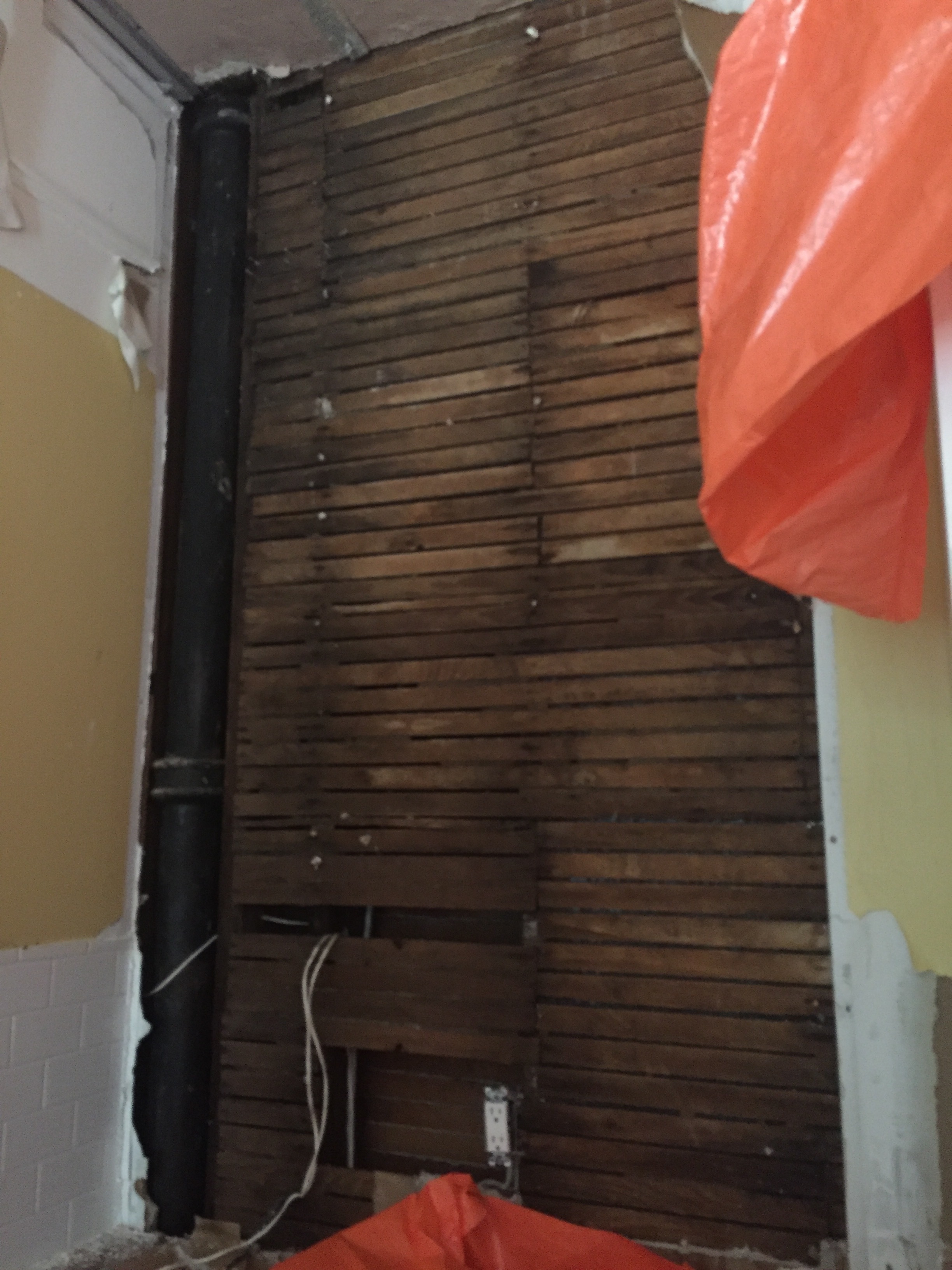 Although we were quite deliberate in our choice, we regretted the floor we chose for the kitchen. I was thinking dark (to hide stains) and highly textured (to avoid slipping of little feet). In reality, it was as a food magnet, somehow enveloping food into every nook and cranny. It never felt clean enough. This time, we chose a bright white marble-look porcelain…and sprung for some in-floor heating. While we loved the bright blue of our lower cabinetry, the kitchen cabinetry company our insurance has us work with had a slightly darker, moodier blue in the standard colour palette. We actually quite liked it, so we compromised and kept the island blue, added a few bigger drawers, and did the rest of the cabinets, uppers and lowers in white. My biggest regret of the original reno was not adding power outlets into the island. I've now added two. We are able to reuse the butcher block and quartz countertops, the sink and the hardware, but we will have to replace the overhead light fixture and the backsplash. We went ahead and added some new pot lights in the ceiling and some better under-cabinetry lighting too keep the place feeling bright.
Powder Room
This is a tiny room off the kitchen, and old servant's staircase actually. It is the definition of a water closet. B.F (before the flood) it wasn't in terrible shape, but had a fussy pedestal sink and an old (also cracked, but not leaking!) toilet. We are installing a wall mounted sink and faucet, a new toilet, and the most awesome blue and white Moroccan tile...also heated because we can! Its so fun and eclectic and I had to trade major favours with my husband to get my way here. I'm most excited about this floor!
Upstairs Bathroom
In all honesty, this room was next on our list of things to renovate somewhere down the line. There was nothing wrong with it per se, but it was definitely obvious that an elderly lady refinished it (tiny angled shower but a large soaker tub and a tiny, very fussy vanity, incredibly bad lighting). As much as this is a shitty circumstance, it's a great opportunity to get our renovation done on someone else's dime! We've blown out walls to make room for a huge corner double vanity, which made room for a huge double-wide shower with a bench and two heads. We are refinishing our clawfoot tub, adding a cool matte black exterior, and adding all black fixtures. Updating the floor with some bright white marble and in-floor heating (again!), and adding some more lighting will finish this room off nicely. I know I said the powder room was my favourite, but maybe this might be too. Shh..don't tell the downstairs bathroom.
Have you lived through an inconvenient reno? Tell me how you survived!